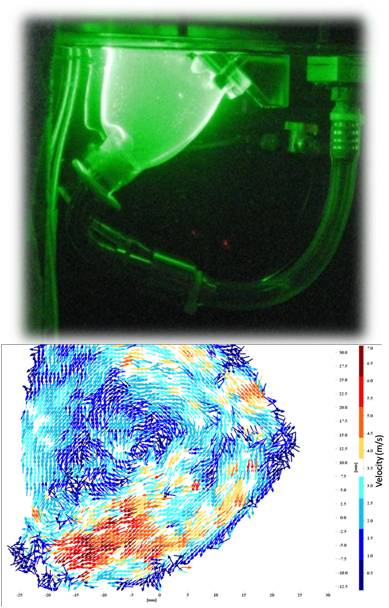 Particle image velocimetry (PIV) is used to study the flow patterns in the heart during LVAD support, including vortex formation.
Ventricular fluid mechanics during LVAD support
PI: Karen May-Newman, Ph.D.
The importance of the flow pattern in the aortic root has been appreciated since the time of Da Vinci. The aortic valve leaflets, the aortic root and sinus walls function together as an integrated system that expand and move to direct flow in vortices that washout the aortic sinuses and feed the coronary arteries with freshly oxygenated blood. This flow pattern is disrupted in VAD patients, which has led to thrombogenic conditions that result in stroke or infarction. These flow patterns are studied in the SDSU cardiac simulator using Particle Image Velocimetry (PIV).
Recent Publications
- May-Newman, Enriquez-Almaguer, Posuwattanakul, and Dembitsky,"Biomechanics of the aortic valve in the continuous flow VAD-assisted heart", ASAIO J 56(4):301-8, 2010.


Return to Karen May-Newman's profile