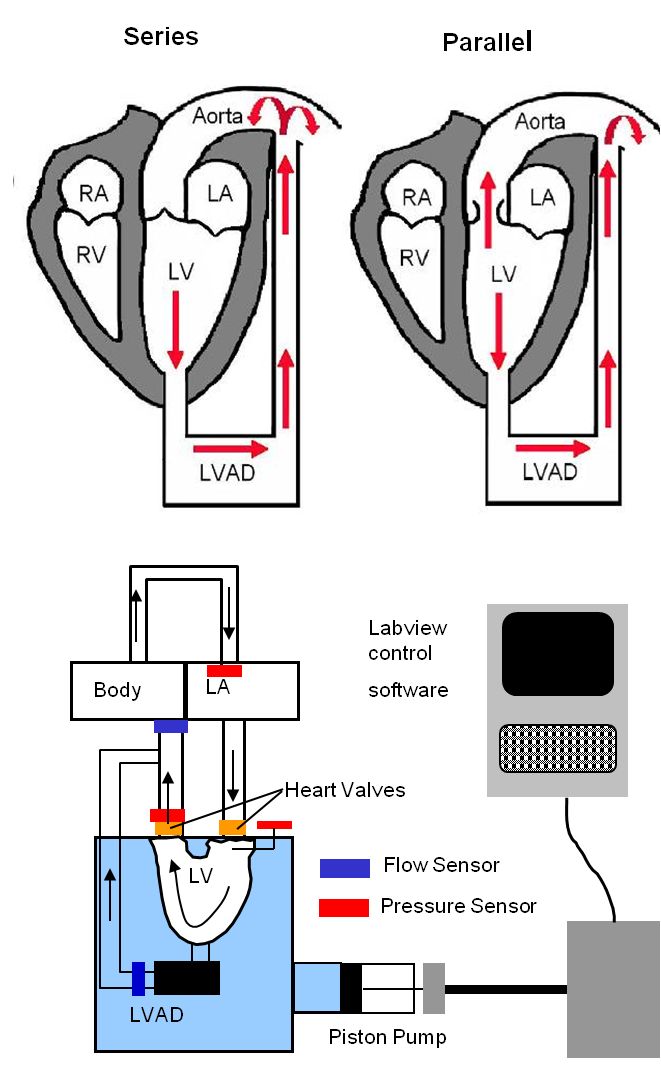 The LVAD alters the flow path through the heart, resulting in series or parallel flow . These flow conditions are studied in the SDSU cardiac simulator.
Biomechanics of the Heart during LVAD Support
PI: Karen May-Newman, Ph.D.
A Left Ventricular Assist Devices (LVAD) is a pump that is surgically connected to the heart and aorta in order to boost systemic blood flow. These devices produce chronic alterations in the cardiovascular solid and fluid mechanics which lead to pathological problems such as thrombosis and tissue remodeling. At SDSU, we investigate these altered biomechanics in LVAD patients using our specially designed mock loop, the SDSU Cardiac Simulator. The simulator is designed to reproduce the pressure and flow dynamics of the human cardiovascular system in vitro, in order to test medical devices including LVADs.
Recent Publications
- May-Newman, Enriquez-Almaguer, Posuwattanakul, and Dembitsky, "Biomechanics of the aortic valve in the continuous flow VAD-assisted heart", ASAIO J 56(4):301-8, 2010.
- John, Mantz, Rose and May-Newman, "Aortic valve pathophysiology during left ventricular assist device support" J Heart Lung Transplant 29(12):1321-9, 2010.
- Adamson, Dembitsky, Baradarian, Chammas, May-Newman, Chillcott, Stahovich, McCalmont, Ortiz, Hoagland and Jaski, "Aortic Valve Closure Associated with HeartMate LVAD Support: Technical Considerations and Long-term Results" J Heart Lung Transplant 30(5):576-82, 2011.
Return to Karen May-Newman's profile